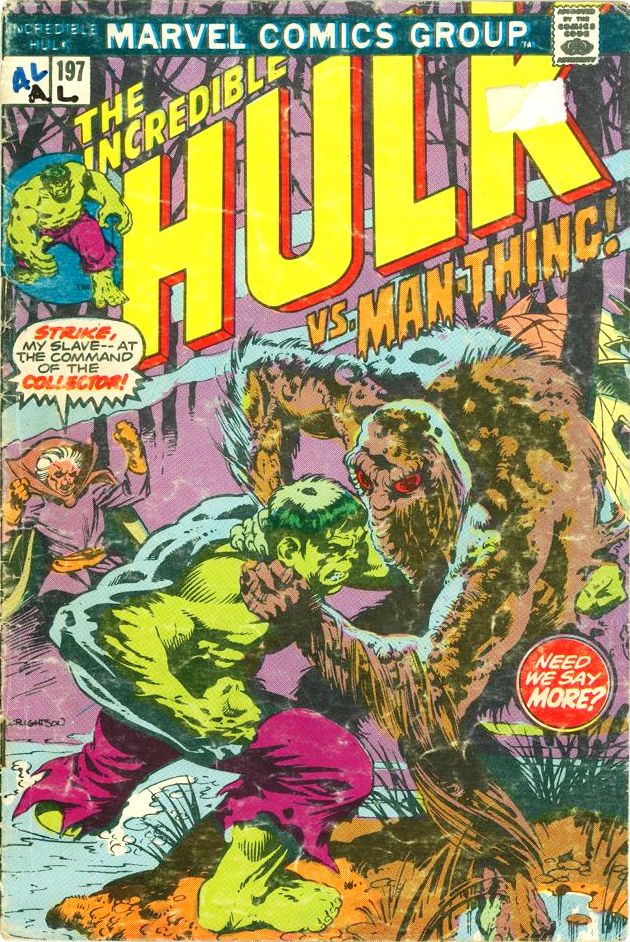 If you think that this beautiful Berni Wrightson cover even
hints
at the weirdness within, think again.....
Sometimes you get your trade paperbacks and Essential volumes and Marvel Masterworks together, and then you realize (Horror!) that you're missing a few issues in between the collected editions. That's when you have to go back to....floppies. Brrr.....
I stopped buying floppies because they just weren't a good value for my money. That, and the fact that I was starting to find it hard to juggle the dragged-out storylines month after month, and still keep everything straight. So it seems funny to dig up a back issue, and realize just how packed with content they were back in the day. This issue has the twenty-something page main story, a letters page, a Bullpen Bulletins page, one of those great Hostess Cupcakes comic ads, illustrated by ROSS ANDRU, no less, and a ton of interesting, tiny ads that I remember poring over intently when I was a child. I particularly remember seeing the ad for the Superman/Spider-Man crossover, and having my little mind blown......Good times. (Never mind that I never found the actual comic, and had to wait until I was around 30 to finally read the story. It was worth it.)
As for the actual story itself....Again, 1970's Marvel tended towards weirdness, and
THE INCREDIBLE HULK #197
was no exception. After being blown out of the sky while battling The Abomination in the last issue, The Hulk finds himself in the Florida Everglades, where he encounters:
Alligators.
A gigantic snake.
The Man-Thing.
The remains of a futuristic town in the middle of the swamp.
A kneeling skeleton.
A mute guy....
...who is being chased by a band of pirates.
Who are taking orders from THE COLLECTOR (!!!!!).
Oh, then the mute guy is transformed into a giant Golem called The Glob.
This all happens within twenty pages. These days, the story would be decompressed, and take about six issues and a mega-crossover to tell the same tale.
This issue is PACKED with good, weird stuff, courtesy of writer Len Wein and artists Sal Buscema and Joe Staton. Loads of fun.
THE INCREDIBLE HULK #197
earns a healthy eight out of ten skulls and crossbones:
☠☠☠☠☠☠☠☠